Love that song by Annie Lennox. Trying to be clever with homophones, wood and would. Oh, you can have so much fun with them when working with students. I have flash cards and matching pictures and they love matching them up, because the pictures are funny.
However, back to the wood. I often used to say to my Mum, "I think I must have been a termite in another life, because I have always loved wood." My Dad, (Henry William Kennedy Watson, 1917-2003) also loved wood and could tell the names of most that were available here in Aotearoa-NZ. The natives, such as rimu and kauri are hardwoods and I love working with rimu when I am pokering – pyrography being it`s correct name. The lighter the colour of the rimu, the better because you can bring out more detail when the wood is lighter.
As I mentioned in an earlier post, I am attempting to be an affiliate marketer, which is where you promote products for someone else on the net. I am also, madly in-love with the public domain of all types of media. Public domain being where anything in print, video, film, photos, etc, come out of their copyright and patent rights, into the public arena – some then being free or for a minimal cost. I plan to use matter from these previously copyrighted material to make products such as ebooks, reports and the like.
I have been looking at a product and humming and haaing, procrastinating before purchasing it, because it is not an essential item for me to buy, just right now. It is a product that gives you the plans for building a million wooden projects. Here is the link
TedsWoodworking
"Earth's Largest Database of Woodworking Projects"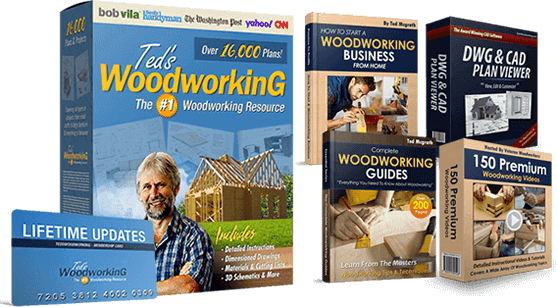 It advertises that there are 12,000 wood plans, so that should keep wood folk happy. The cost is American $65.00 and composed of dvds.
So if any of you purchase it, please let me know what you think of it…value for money or not! You can get me at wndwatson88@gmail.com
Here is another wood story. My brother-in-law`s brother, Greg Estall, is the managing director of this business. He makes all manner of beautifully crafted wooden products. Here is a link that you can follow to have a look.